Are you searching for the best battery operated pole saw that will give your trees the perfect shape you want? Are you puzzled regarding which one you should purchase? Well, don't sweat out any further! This guide that you are reading at the moment will enlighten you regarding battery pole saw reviews.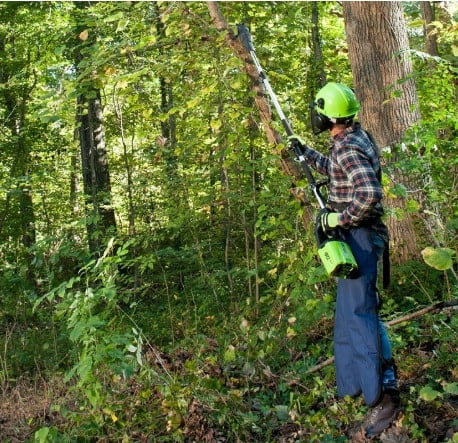 All the special features of each battery operated pole saw has been highlighted so that you can choose the best one for yourself. Getting the best battery pole saw will be difficult for you if you have not been introduced to the basic features of a pole saw. Our guide is both for the beginners who are buying a pole saw for the first time and also for confused buyers who previously faced problem with the pole saw they purchased earlier and are disappointed.
In this guide, we have not only given reviews regarding 5 best battery operated pole saw, but we have also included buyer guide and have answered some FAQs. By going through the FAQs all your doubts that might pop in your mind regarding the pole saws will surely get clear and then you can proceed onto purchasing the best battery powered pole saw for yourself.
So, let's get started!
Top 5 Best Battery Powered Pole Saw Comparison Chart
| Name | Battery | Height | Check Price |
| --- | --- | --- | --- |
| BLACK+DECKER Lithium-Ion Battery Powered Pole Saw | 20V | 14 feet | Check Price |
| Greenworks 40V Battery Powered Pole Saw | 40V | 8 feet | Check Price |
| Worx WG323 20V Cordless Battery Pole Chain Saw | 20V | 10 feet | Check Price |
| Greenworks PRO 9' 80V Battery Pole Saw | 80V | 8 feet | Check Price |
| EGO Power+PSA1000 Pole Saw 56-Volt Lithium-Ion Head System | 56V | | Check Price |
If your trees have grown healthy and tall up to 14 feet, then don't worry at all! BLACK+DECKER has got your back! This hassle-free cordless battery powered pole saw enables you to trim the branches of tree that are up to 14 feet tall. Its lithium-ion battery provides long-lasting performance so that you can carry on with your tree trimming for long hours.
To add more, you can carry this amazing battery powered pole saw with you as the units can be disassembled for easy carriage and transportation. It's totally worth the money as this amazing pole saw will last you for years and you will not face any challenges with it.
Let us see further more details of the amazing features that it provides.
Battery Capability: The 20-Volt lithium-ion battery of BLACK+DECKER LPP120 has the capability to provide about 100 cuts of 1 to 1.5 inch branches per charge. This is how the charge of the battery is long lasting and you will not feel any disturbance while you are trimming your trees. Such longevity of the lithium-ion battery keeps you away from the hassle of charging the pole saw again and again.
Working capability: The BLACK+DECKER LPP120 can be extended for a usable length of 6-1/2 0r 10 feet. It has the highest capability of reaching up to 14 feet. The size of the cutting bar and chain is 8inches and has the capability of cutting maximum diameter of 6 inches.
Greenworks 8.5' 40V Cordless battery powered Pole Saw is amazing for being lightweight and for not giving any sort of weight pressure to the user when trimming is being done. You will not need to face the hassle of applying oil to the bar and chain as an oil tank is included. The oiler is automated and it applies oil to increase the durability of the pole saw and to optimize its performance. The oil tank is translucent so that you can check the oil level of the tank.
Apart from having an amazing automated oil tank, it comes compiled with more beneficial features that have been listed below.
Battery capability: Greenworks 8.5' 40V Cordless Pole Saw's lithium-ion battery has the capability of providing 65 cuts per charge. It can get charged up to 40V so that heavy duty operation can be performed. The pole saw is cordless so you need to just charge the battery with the charger included. Though the pole is cordless, there is no need to think that its performance has become limited. Moreover, it can surely compete with any of the wired pole saw in the market.
Aluminum Construction: The shaft of this amazing cordless pole saw is made of aluminum that is extendable so that you can do trimming of branches up to 8 feet.
Easy Adjustable Chain Tensioning System: The pole saw has an easy adjustable chain tensioning system so that you can tighten the chain quickly when you are using the pole saw.
Worx WG323 provides two functions together which makes it worth the money you pay. You can make it a chain saw when you remove the 10-feet extension pole. With the chain saw you will be able to use it for cutting things and when it is in its pole saw format use it for trimming your trees.
You will be able to save up more bucks as you will need not to buy any sort of lubricating oil because Worx WG323 itself has an automatic chain lubrication.
This pole saw comes with more amazing features that will surely blow your mind away:
Can Reach Up To 10 Feet: This amazing battery powered cordless pole saw has the capability of reaching up to 10 feet to provide clean cuts of branches of trees.
Lightweight Body: It is lightweight so that you can do your work without feeling any sort of pressure on your arms.
Over-Mold Soft Grip: Over-mold soft grip helps you to do effective trimming of trees and it also ensures your safety.
High Battery Power: 20 V battery provides enough power to the pole saw so that it can do it's trimming in high speed.
Lubrication: While using pole saws it is obvious for you to face hassles as you will be needing to stop for a while and apply oil for making the chain work smoothly. However, you will not need to worry about it anymore with Worx WG323. It has automatic chain lubrication and auto-tension system to keep you going.
If you want a lightweight pole saw that refrains from creating noise pollution or environmental pollution, then Greenworks PRO 9' will be absolutely perfect for you. It is committed to complete the task of trimming by extending up to 8 feet while producing less vibration, less noise and less mess. You will be able to feel the rush of power as soon as you switch on this cordless pole by pressing the ON button.
Other than being environmentally friendly, it comes with more eye-catching features that will make you understand that each and every penny that you will spend behind buying this pole saw is worth it.
Here are the features it offers:
Reliable Performance: Reliability of performances have been further enhanced with brushless motors. It is also well known to deliver gas equivalent performance. 10-inch bar and chain help to provide efficient cutting diameter.
Powerful Battery: The 2 Ah battery is extremely powerful. It provides up to 80 cuts per charge.
Manual Chain Tensioning: Manual chain tensioning needs to be done after certain hours of use.
Lightweight Body: Easy to use as the pole saw is lightweight so less pressure is exerted on user.
Automatic Oiler: For optimizing the performance of the pole saw, an automatic oiler has been included. It does the job of oiling the chain after a few hours of use so that you can carry on with your work smoothly without getting interrupted.
If you want a pole saw that is high in quality and ensures high performance, then EGO Power+PSA1000 Pole Saw is what you should be looking for! It's water resistant construction and genuine EGO parts increase its value in terms of quality. It has been designed in such a way that you can't stop until your work is done. Also, the manufacturer ensures that you won't face any kind of hassle with the pole's chain at all.
Let's go through an overview of the features that this amazing battery operated pole saw offers:
Can Cut Large Diameters: 1 Oregon 10-inch bar and chain have been included with this pole saw to cut in large diameters. Also, the pole saw attachment is 56 inches long.
Automatic lubrication system: Automatic lubrication system has been included so that the user does not need to stop in between of work to oil the chain.
56V Lithium Battery: This amazing pole saw runs by the most advanced 56V arc lithium battery that gets charged up in less than 1 hour and delivers high power so that trimming can be done in high speed.
Water Resistant Construction: Water resistant construction prevents rust. So the pole saw can be maintained easily for long-lasting performance
How To Buy The Best Battery Powered Pole Saw?
Choosing the best pole saw among the thousands of pole saws that you see is surely difficult if you don't have any idea about the features to look in. Knowing which one to go for is definitely puzzling and confusing if you are a beginner. To help with easing all your difficulties we have listed below a few essential things that you definitely need to check out when you come up with the decision of purchasing a pole saw.
Extension:
Know the height of your trees first. After doing so, purchase the pole saw that will be able to trim up to the required height of your trees.
Workload:
Different pole saws have the capability of providing different number of cuts per charge. Choose the one that provides enough cuts according to your requirement. Here your requirement matters as you cannot be wasting a lot of time behind trimming your trees if your pole saw provides less number of cuts per charge. So choose wisely depending on the number of trees you own.
Think about your budget:
If a pole saw is low in price, it doesn't necessarily mean that it provides low quality. Being less in price does not degrade its quality, all you need to look is if the pole saw is satisfying all your needs or not. If you see it is satisfying your needs and is within the budget go for it.
You don't need to buy the pole saw that looks lavish and is highest in price amongst others. The features of expensive ones might be overqualified according to your needs, so purchase by keeping everything in mind.
Look out for beneficial features:
By keeping your budget in mind, if you see a good number of pole saws that suits your budget then choose the one that is providing you the highest number of benefits.
Don't Forget To Read Our Other's Pole saw Reviews: 
Frequently Asked Questions
What are the benefits of using a cordless battery operated pole saw?
Answer: Cordless pole saws allow you to carry it anywhere you wish without the tension of thinking how you are going to keep it plugged in. You only need to charge it and keep it ready if you want to take it somewhere with you for trimming trees.
Can I use the pole saw for other purposes other than trimming trees?
Answer: We recommend you not to use it for any other purpose unless it has the feature of allowing you to use it for a mentioned purpose. Using the pole saw for other purposes that are beyond its capability will cause it to get damaged which is something you surely don't want.
How do I take proper care of my pole saw?
Answer: Instructions and guides regarding the necessary steps you need to take for proper maintenance have been mentioned in the user manual it comes with. You should also disassemble and clean the parts according to the instructions and keep it safely in the box it comes with after you are done with your work.
How do I choose the best battery pole saw for myself?
Answer: Follow the guidelines mentioned in this article and look for the essential things that we have mentioned above. Most importantly, know about your requirements properly and research more about the features that you must need in the pole saws that will satisfy your needs.
How long will a battery operated pole saw last?
Answer: A pole saw will last for years if you take care of it and do all the necessary things needed for proper maintenance. Proper maintenance is the key to making every penny you spent worth it. No matter how expensive the pole saw that you bought is, if good care is not taken it will not last you long.
 Final Verdict:
In this guide, we have listed and given you the best battery powered pole saw reviews among thousands of pole saws that you will see in the market. With the buying guides that we have mentioned above, you will surely get some essential ideas that you must need to keep in mind while shopping for a battery powered pole saw.  We have also cleared a few common questions that might op in the mind of a beginner.
The most essential thing that you need to do is, you should know your requirements and needs for purchasing the right and best battery pole saw. So don't sweat out any further and get your battery operated pole saw today for increasing the beauty of your garden.
---