To give trees their best and healthiest shape, pruning and thinning out limbs are must-to-do acts. In order to do that, people have to be involved in dangerous acts like climbing trees, teetering on a ladder and whatnot.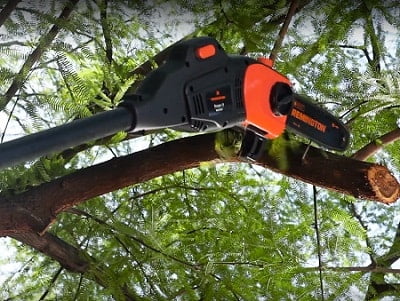 Thanks to the innovators and engineers- they've got us tools like professional pole saws to get over the hardship.
Pole saw is just a chainsaw attached on the tip of a pole. As long as you're up to cutting tree branches of 2 to 10+ inches in diameter, a pole saw is the key.
However, in 2020, pole saw itself has become a gigantic industry. Dozens of brands are up with their professional pole saw models, each offering a unique set of features. As a buyer yourself, it's a hard nut to crack to chose one right model.
That's the exact reason that drove us to come up with this whole roundup post. It took us 4 days of hectic research, while we sorted out 13 best picks from an array of 53. We hand-tested a few of them, and the rest of the evolution was done through the first-hand pole saw reviews from the user's end.
Finally, the result was worth it. The article you're in right now, sports a list of the best professional pole saw models, backed up by a buyer's guide.
We're more than certain that, this will be the last resource you would need to get the best pole saw of your life. Let's start with a thorough pole saw reviews and comparison table of all our top picks-
Top 10 Best Rated Pole Saws In  2020 – which you can buy right now
| Product Name | Bar/Chain | Type | Price |
| --- | --- | --- | --- |
| Sun Joe SWJ800E 8-Inch Telescoping Electric Pole Chain Saw | 8 inches | Electric | Check Price |
| Greenworks 8.5′ 40V Cordless Pole Saw | 8 inches | Cordless | Check Price |
| Remington RM1025SPS Ranger 8-Amp Electric Pole Saw | 10 inches | Electric | Check Price |
| Worx WG309 Electric Pole Saw | 10 inches | Electric | Check Price |
| Greenworks 8.5′ Cordless Pole Saw with Hedge Trimmer | 8.5 inches | Cordless | Check Price |
| TrimmerPlus TPP720 8″ Pole Saw | 8 inches | Electric | Check Price |
| TrimmerPlus PS720 8-Inch Pole Saw | 8 inches | Electric | Check Price |
| EGO Power+ PSA1000 10-Inch Pole Saw | 10 inches | Cordless | Check Price |
| Sun Joe SWJ807E Electric Convertible Pole Chain Saw | 10 inches | Electric | Check Price |
| BLACK+DECKER PP610 6.5-Amp Corded Pole Saw | 10 inches | Electric | Check Price |
Let's See Our Best Pole Saw Reviews With Pros & Cons –
1.

Sun Joe SWJ800E 8-Inch Telescoping Pole Saw review
After tons of researches and elimination, our much deserving winner is SWJ800E 8-Inch Telescoping Electric Pole Chain Saw from Sun Joe.
Behind our impression, there are a number of factors. First of all, it's the power of the motor. There is a 6.5amp motor that can provide a no-load rotational speed of up to 2000 RPM. And with such speed, it can easily cut branches of 7.5″ thickness.
For an electric pole saw, that's quite rare. Especially the price-point is low.
Next on, we have the 8.7 ft- 15 ft length of the pole and 8″ length of the cutting bar. Both of these features were beyond compliment and suits everyone from beginner to professionals.
Another impressive feature of this telescoping pole saw is, it's the ability to auto lubricate the chain. As you know, lubricating the saw chain is no less important than any other maintenance. And this time, this pole saw can take care of itself. There is an oil tank which is capable of storing lubes up to a weight of 2.7 ounces.
As per the design and safety standard of CSA, it meets all the boxes of quality and performance. On top of that, you have the excellent brand value of Sun Joe with this model. So, we found it quite recommendable for all sort of users.
2.

Greenworks 8.5′ 40V - best professional pole saw
At the second slot, we've decided to put a cordless battery powered pole saw. And we had almost no choice except assigning this slot to the mighty Greenworks 8.5′ 40V Cordless Pole Saw.
Why we're so sure, you may ask.
Well. first thing first, cordless pole saws have some serious issues with the runtime. The battery can perform not more than 30-35 cuts at stretch. But Greenworks seems to do some sort of wonder in this model. It can go till an insane score of 65 cuts!!!
Moving forward, the next thing we love is the adjustable chain tension. While cutting, this will help to deal with both soft and hardwood.
The cutting bar is 8 inches. So cutting almost any size of mid-level branches would be easy. Also, to extend the length of the pole, there are three aluminum poles.
Not to let you worry about the lubrication, there is an automatic lubricator which will keep your pruning work trouble-free. Also, the oil container tank is made transparent. So, you can see through it to check the oil level and refill as per necessity.
Everyone wants the lightweight pole saws as possible. But light weighted models don't seem to be good in performance. Except for a few models like this one from Greenworks.
3.

Remington RM1025SPS Ranger - best rated pole saw
Remington had been quite of a brand in the industry of not only hand and power tools, but the entire consumer electronics industry. On that consequence, presenting our #3rd ranked best pole saws under 100- the Remington RM1025SPS Ranger 8-Amp Electric Pole Saw.
It's a 2-in-1 saw device with which you can either cut tree branches at height or detach the saw individually to cut woods on the ground.
We found one of the long reach pole saw, which is 10 to 15 feet. And the cutting bar is as insane as 10 inches. So cutting even thickest of the branches at super-high locations is made simple.
To operate with this saw is a comfort for the user. You can feel the benefit of the anti-rotation shaft and the non-slip grip while using. While pruning for long hours, this might be beneficial for any user.
There is a flip and lock clamp to save your time of setting the height of the pole. With the clamp set, you can quickly set the height and start trimming tree branches immediately.
Remington RM1025SPS Ranger best pole saw pruner, With all those facilities provided. The cost of this pole saw is budget friendly. Also loved by lots of users.
We've seen many of the 10 inches pole saws to be rolling on the market. But almost all of them are heavy and hard to operate. But this time, we've got an exception, namely Worx WG309 Electric Pole Saw.
The best and probably the most unique feature of this pole saw is, it has an auto-adjustment system for the tension of the chain system. Chain tension adjustment is a common feature in many pole saws, but when it comes to being automated, that's what benefits the users to a great extent.
This best electric pole saw is powered by an 8-amp motor. And that's what we call high power, and it will surely give you consistent performance.
The handle is rotatable, which allows you to switch between the sides of the saw in the blinks of eyes. Also, the grip is quite soft and bent to make it easy to handle even with sweaty hands.
The extension of the saw is 8 feet long, and a user can easily reach heights with it without any hardship. Also, the one-piece extension requires no assembling or installation.
Once again, this tool is quite compact in design and light in weight. Frankly, we've hardly seen any 10 inches pole saw to come with such simplicity in structure.
Remington had been quite a brand as long as power and hand tools are concerned. They call Remington RM1025P both electric pole saw and chainsaw because you can use it both ways. If you detach the saw from the pole, you can use to cut any logs or trees on the ground.Moving forward, let's look up Remington Pole Saw Reviews and its features as a pole saw-As any regular pole saw within such price range, it has got an 8 amp motor power, along with the instant-start feature. With the 10 inches bar length, you can cut even thickest of the tree branches.The reach of this pole saw is up to 10 foot. So, tree branches at a height of 15-16 feet won't be a problem.The handle grip is pretty much comfortable. Unlike some more models, it's not rotatable. So you've kept it straight while pruning. To make sure you're accurate with the height of cutting, there is a flip and lock clamp attachment system.If you're a professional or semi-professional carpenter who has to go through a lot of cutting jobs, this one might be a perfect catch. As it can be used both as a chain saw and a pole saw, it's quite of a money-saving idea for any carpenter out there.
During the pole saw reviews, we found an awesome pole saw from the Greenworks brand. Pole saw itself is a great tool to trim out tree branches. But what if you get a set of garden and lawn management tools along with a pole saw?
Greenworks had done just that for us and brought up more than 25 tools that can run on the same battery system. They call it by Greenworks 8.5′ 40V Cordless Pole Saw with Hedge Trimmer set.
There are many items in the set, but the major two tools are the hedge trimmer and the pole saw. Both of them can be used to cut out tree branches and logs that are on the ground.
Talking about the pole saw itself, it's a really good one. The best part of this pole saw is its blade. So far, we've got saws to come up maximum 10 inches of blade length. But this one seems to be seriously made of cutting ultra-thick branches.
Just like any other good quality pole saws, there is automatic oiler in this model as well. Whenever it gets dry, it will keep the chain lubricated. And to give you an idea of how much oil is left, the oil container is transparent.
However, the pole saw, the hedge trimmer and the other devices run on the same battery system. And the 2.0Ah, 40V battery is provided along with the set. The whole set may cost you a good amount of bucks, but for us, that's completely worth it.
The second best electric pole saw reviews of the list is- Sun Joe SWJ803E 10 inch Pole Chain Saw.The best and probably, the most unique part of this electric pole saw is, it's cutting thickness. With the motor power of 8 amp and the blade length of 10 inches, it can take care of any tree branches within a range of 10 inches thickness.Think about all the branches that you want to prune, and measure the diameter of them. We're certain that it won't cross a limit of 10 inches in terms of thickness.Throughout the extendable telescopic body, you can extend it from a height of 5.8 feet to almost 9 feet. If your height is around 5-6 feet, you can reach 14-15 feet high branches with this pole saw. Quite enough as long as overhead pruning is concerned, right?With a push button, you can power it up with AC power from a wall socket. To keep you safe while operating, there is a safety switch. Also, you can cut within an angle of 0-30 degree, which is appreciatable.Also, there are a number of colors to chose from, based on what your personal preference is.
It's not always when you have to cut and trim tree branches of 10 inches in diameter. Sometimes, it's only about trimming out tiny branches, and that's where you need TrimmerPlus TPP720 8″ Pole Saw in use.
This saw is from a newly launched brand Trimmer Plus. But the design and structure give us absolutely satisfying feelings. Its bar and chain are 8 inches in length. And with that, it can cut up to 4 inches of tree branches.
The height is one of the charming facts about this saw. As thin branches are likely to be at the upper half of the tree, the 11 feet reach of this one will help you a lot with cutting off those branches.
Like any other premium pole saws, this one has an automatic oiler to keep the chain rolling.
This saw comes with a handful of accessories-compatibility. Accessories from brands like Remington, Craftsman, Troy Built, Kobalt and so on- are welcome to join this little beast.
If you're worried about dealing with a bunch of trimming works but with thinner branches, we would highly recommend you TrimmerPlus TPP720 8″ Pole Saw.
Another pick of Best Pole Saw for the money, another compact and expansive pick from the production house of Trimmer Plus. This time, it's the Trimmer Plus PS720 8-Inch Pole Saw and we have just got a 2018 edition of the product.
Let's talk about its features and benefits it can provide us with.
The best part of this pole saw is its expansive height. To reach our high tree branches, it's an ability to go high would definitely help.
There are 8 inches long bar and chain attachment provided for flawless cutting. And to keep the chain jamming-free there is an automatic oiler with the box.
The structure of this pole is pretty simple and easy-to-handle. It's neither too light nor too heavy. Without any hardship, you can go till a height of 11 feet with this pole saw.
Dual height options are one of its unique aspects. Through its an extended boom, you can reach up to 11 feet high branches, and trim them out even with one hand.
Two extension sections are allowed with this model, but there is not any compatibility with accessories from other brands. As a brand, Trimmer plus seems to disappoint us there.
At the #10th ranked slot, we have got one of the finest built poles saw from EGO power+. It's titled as EGO Power+ PSA1000 10-Inch Pole Saw and we are highly impressed with the structural strength of this tool.
Basically, it comes as an attachment to 56V EGO Power+ head system. The bar, chain and other parts are quite strong and rigid. Let's go through them one by one-
The Oregon micro-cutting system allows you to cut even 8-12 inches thick wooden limbs. The thin blade won't let you face any trouble with even the hardest kind of wood.
The bar and chain are 10 inches in length. And that's quite okay as long as thick wood of 8-10″ is concerned. With the high and rugged extension, it's also possible to reach heights as well.
As we said before, this pole saw is best suited with the EGO Power+ head system(battery). When these two are combined together, the output comes to be extraordinary.
Another good fact about this saw is, it's quite less likely to produce noise, fuss, fumes, and woody debris. That's definitely a plus, as no one of us wants ourselves to get dirty.
Lastly, this is water resistant. So, you won't need to get a replacement just because it soaked in rain.
When you are not looking forward to cutting thick timbers and logs, you might want a compact saw on the top of a decently high pole. With all these features included, we've got Sun Joe SWJ807E Electric Convertible Pole Chainsaw at this point of the article.
This is basically a two in one tool. With the pole, it becomes a pole saw, and without the pole saw, it stays just as a chainsaw which can be used and held by hand.
This electric pruning saw can do both jobs of cutting overhead limbs and logs on the ground. So, you can cut the costs of purchasing two different saws for two purposes.
Moving forward, we've seen this pole saw to have an 8.8 feet long pole saw to reach branches at a height. For the powerful 8 amp motor, you can cut up to 7 inches of thick wooden branches.
The design and quality of this pole saw is CSA approved. So, you can rely on its performance and development.
The pole saw comes in five different colors. That's a property of pole saws that we've hardly found in other models. You can choose one from the given five options.
Lastly, it's the price-quality ratio. Comparing to similar models from other brands, we found Sun Joe SWJ807E Electric Convertible Pole Chain Saw quite budget friendly. If you're looking for low end picks, this may be the one.
We are eventually at the end of the list of 10. Now, we have BLACK+DECKER PP610 6.5-Amp Corded Pole Saw. This is a low-powered saw, but the thickness of wooden limbs it can cut is up to 10 inches.
If you're not okay with working with high powered saws, this should be the one that you need. Especially, for softwoods, the thickness is quite more than what we can see in case of hardwoods. And the motor power required for softwoods shouldn't as high as 8-10 amps.
Therefore, we'd label it as the best pole saw machine for softwoods.
Moving forward, the 9.5' long extendable pole is high enough to reach topmost branches of trees. Comparing to similar pole saws of 6-8 amp motor power, the height gives it an extra shade of excellence.
We know that the price-point of the saw may seem out-of-reach at first glance. But after going through hundred's of its user's responses, we're certain about it's worth.
Just like any other good quality saws, it features an automatic oil system. Resultantly, you won't have to worry about oiling it every now and then.
If you ask for our honest opinion, we'd put a thumbs up for BLACK+DECKER PP610 6.5-Amp Corded Pole Saw. If the price point doesn't be an issue, you can certainly give it a try.
WEN 4021 8-Inch 6.5A Electric Telescoping Pole is our last pick of the list of 13 Best pole saw . Once again, it's a low-end pole saw within a cheap price range as well.
The motor power is 6.5 amp, and it can cut more than 2000 feet per minute. The cutting ability lies within 8 inches of thick motors, and we appreciate that a lot.
The chain adjustment is manual, but it's tools-free. So you can say, there is minimal maintenance required. Also, the weight of this product is around 8 pounds. So, the users can use it fatigue-free.
There are three versions with different reaching ability of this product. The usual reach of the model is 13.5 inches. If you require more or even less reach, there are other versions to chose from.
Buyer's Guide For the Best Pole Saws 2020
That's you need to consider when buying the best professional pole saw in this year- 
Buying a pole saw takes a lot of facts to consider. As you've just gone throughout the top ten best poles saw reviews, it's high time to scan through the buying guide. Below, we've put down a comprehensive guide to help you out with picking the right model and brand-
The Blade Length

The wooden branches that you are supposed to trim with a pole saw, are of various of lengths. Some are as tiny as 0.5 inches in diameter. Some come with a thickness of 10+ inches.

For that purpose, blade length is the direct factor that you need to take in consideration. There are many blades who are of 4 inches, where some models come with blade lengths of 10+ inches. And that's exactly the value of branch diameter that they're able to cut.

The Length Of The Pole

Trees have branches all over its body. And you need to trim out branches across it all. So, you need to reach at least a height of 6" feet to cut out them.

Fortunately, pole saws nowadays come with lengths more than that. Even in some cases, there are variations in lengths and you can reach even heights to 11 feet and more.

Decide the average height of branches that you can cut with your pole saw. Sometimes, you can take help of a ladder also.

The Capacity To Handle

You are going to reach a high branch of a tree through a pole saw and cut it through with the blade. So, of course, you should have firm control over the movement and turns of the whole device.

As long as comfort is concerned, the first determining factor is the weight. Usually handles that are made of aluminum or such lightweight material, come to be lightweight.

Also, the grip of the handle also plays an important role. If you're not comfortable in handling it, you won't be stable while cutting the branches as well.

The Adjust-ability Of Chain Tension

The chain is the most vital part of a saw which gets in contact with the wood. And based on which type of wood you're cutting, the tension level of the chain should be settled.

Now, the fact is, not every pole saw would allow you to determine the chain tension. If you have to deal with both softwood and hardwood, you should go for a model which allows you to adjust the tension level of the chain.

Compatibility With Accessories

Sometime, you may need to add an extra accessory to enhance the capacity of your pole saw. And the accessory may come from a different brand as well.

In case you're a would be a user like that, you should go for one that has such compatibility. We've already mentioned some of such products on the list.
Types Of Pole Saws In The Market
If you've been into pruning, you might know that there are three major types of them- The electric ones, the cordless ones and the gas-powered ones. We're giving a brief on each of them-
Electric Pole Saws

By name, we can see that these pole saws needs electric power input to operate. So, you have to plug them into a power outlet. So, if it's the small yard, backyard or Lawn side- an electric pole saw is the right fit.

However, in terms of power, electric pole saws are weaker than gas pole saws and stronger than cordless pole saws. The power mostly ranges from 6 to 10 Amps. The size of tree branches that this is able to cut is from 2″ to 5″.

Cordless Pole Saws

Cordless pole saws are just the wireless version of electric saws. Another difference between electric and cordless pole saw is, they are powered by DC power, where electric ones are powered by AC power. Being portable has both merits and demerits of it.

First of all, it won't restrict you with a cable connection. Also, some good models of wireless saws are able to cut 3″ to 7″ thick branches. On the other hand, you have to be depended on the battery charge and have to recharge it frequently.

Also, the saw that you would attach to it should be light in weight. Read here our in-depth best cordless pole saw Reviews and pros, cons.

Gas Powered Pole Saws

Gas powered pole saws are undoubted, the most powerful of three of the kinds. They cost more money and gives better returns on the money as well.

What we mean is, they are able to trim a lot of thick tree branches and work without the worries of getting out of battery charge. Gas powered pole saws are heavier and noisier than electric or portable pole saws. But as long as heavy pruning works are taken into consideration, that's quite okay for a user. We write here details about the best gas pole saw with a short list of top item.
Frequently Asked Questions(FAQ)
Question: How High A Pole Saw Can Help Me To Cut?
Answer: It quite depends on the model you're working with. With the extension, the range is usually 6 feet to 11 feet.
Question: What Sort Of Power Source Does A Pole Saw Need?
Answer: Usually, there are three sorts of a power source for pole saws- gas power, AC electric power, and DC battery power.
Question: Can I Adjust The Tension Level Of The Saw?
Answer: Not in every mode. But for some mode,  you'll be provided with that facility.
Question: How Much Does A Pole Saw Cost?
Answer: Depending on the quality of the product, it ranges from $40/50  to $350-400.
Question:  What Is The Best Pole Saw For Palm Trees ??
Answer: For Plumbing the Palm Tree, You must need a long r reached pole saw right??  You can check Our #1 and #3 No Recommended Pole saw that's are 15 feet extendable pole saw. Those poles saw are best for palm trees.
Question: What Is The Best Pole Saw To Buy?
Answer:  You do not have to surprise anymore. We have spent our time to analyze the various type of pole saws available on the market. We Created one of the Top pole saws list. The above pole saw review we highlight the respective features of the mobiles, as well as their pros and cons. The target of the above review is to ensure you get the best pole saws when you next time goes shopping one.
Summary Line
Thanks for going through the long guide. Throughout the 4000-words piece, we've tried to enlist every kind of best pole saw for every budget. Best of luck on finding your one.
---