A cowboy will never, ever compromise with the quality and performance of his horse. At least, as long as he's determined to win the race.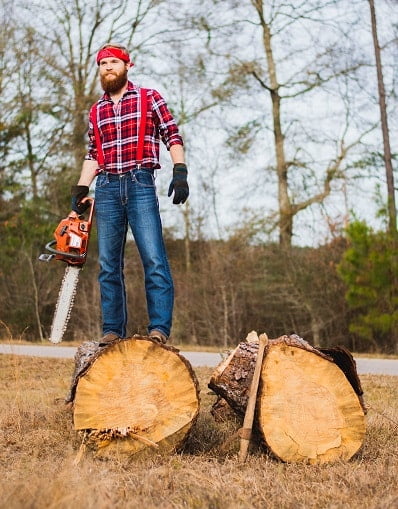 On the same note, a professional woodworker or carpenter wants their chainsaw to be the best shot of the market. But in the middle of bulky advertisements and lack of practical experience, they often end up investing after wrong models.
Eventually, at some point, they all wonder about the fact that- what is the best  chainsaw on the market?
We have, therefore, decided to craft a complete list of best professional chainsaw models. We've gone through 37 of the most popular chainsaw of the market. There were gas powered chainsaws, electric powered chainsaw and battery-powered cordless chainsaw.
Upon many variables, we've shortlisted the top picks of the list, and broken down their features and benefits right in this article.
Before diving deep into the content, let's have a bird's eye view on all of the highlighting specs of the products-
Our Favorite top 3 Professional Chainsaw 2021
The 10 Best Professional Chainsaws Reviews – 2021
Here we have come with 10 different chainsaw to make clear confuse, What's the best chainsaw on the market, What's the right chainsaw for your duty, what is the good chainsaw in 2021. Go through their details  review with pros and cons.
The first choice on the list is the Husqvarna 455 Rancher Gas Chainsaw. It's a gas-powered chainsaw with a highly powerful engine of 55.5 cc engine. The major purpose of this chainsaw is to deal with heavy workload with hardwood, plywood etc. This Husqvarna 455 known as the best heavy duty chainsaw. We will break down further features and benefits below-
First thing first, we loved the automated feature in this pro chain saw. It doesn't let you pull those chords with hard effort. All you need is to provide it with a little time. It will start on itself pretty quickly. If you are looking for the top professional chainsaw on the market, Husqvarna 455 Rancher will be perfect choice for you.
The machine is particularly designed to save you from the extra cost of fuel. The X-torque feature is highly obliged to the environmental regulations. So, both fuel consumption and gas emissions will be significantly less than what you can see in case of other similar products.
The air filter is, of course, one of those parts which are meant to be protected from outsider pollutants. We are talking about small, large and medium-sized sawdust particles. But the smart and centrifugal air injection system is there to result in a cleaner and more efficient air filter. It will prevent those harmful dust and debris from entering into the air filter.
You definitely won't like to get bothered by vibration while working. Keeping that in mind, the Husqvarna 455 is design to provide less vibration and less fatigue. So using a powerful chainsaw like this won't be any easier than this.
To adjust the chain tension of the saw, you don't need to put any manual effort. There is a tool-less, automatic chain adjustment, which will let you control the power. Depending on whether you're cutting hardwood or softwood, you can adjust the chain tension without any flaw.
If you want a combination of good cutting power and an ability to deal with stubborn wood from a gas powered say, that's okay. But if you want to put a low price point in the requirement list, that becomes quite hard to find.
But here at this point, we've got a model that ticks three of the boxes. It's from the famous brand Poulan Pro, and the name is Poulan Pro 20 in. 50cc 2-Cycle Gas Chainsaw.
It's a gas powered chainsaw that is powered with a 2 stroke engine of great power. Apart from the high powered engine, the next big thing about this chainsaw is the EPS system.
The EPS system stands for Effortless Pull-start System. As gas powered chainsaws have to be started by pulling a chord. Due to the EPS system, the pulling effort becomes quite easy. So, you are getting a reliable, swift and less effort starting system which every woodworker will love.
Moving forward, there is a long and stable filtering system embedded in the Poulan Pro 20 in. 50cc 2-Cycle Gas Chainsaw. The long air filter life will definitely keep the dust and debris away from entering the internal part of the saw.
Also, fuel consumption is also low in the case of this model. Low fuel consumption means less energy and less emission of carbon dioxide and other similar elements that pollute the air.
The handling and maintenance are pretty much easy for this model. Poulan Pro is the best chainsaw for homeowner use. There is a side adjust chain adjustment feature with quick and easy access clips. If you need to clean the air filter and spark plug, it will take almost no time to take that out of the place.
In terms of performance, it has a 20 inches of a bar chain length. So dealing with both softwood and hardwood won't be an issue at all.
People who are working in the zone of woodworking, carpentry, and even electronics, had definitely used tools from Remington. On the consequence of great brand image that Remington has, we're presenting Remington RM4618 as the top rated chainsaws of the moment.
Remington RM4618 is a gas powered chainsaw. It has a motor of exactly 8amp of power. All you need to do is to power it up, and you're ready to go. No mixing of oil and gas is required.
The design and development of the Remington RM4618 is one of it's strongest sides. They have a got a number of safety concerns right in the design. One fine example of that is the wraparound hand guard. It keeps your hands free from the debris when working.
The chain is 18 inches in terms of length. So, you can cut tree limbs and branches of up to 18 inches at max. For usual woodworking and carpentry, that seems sufficient. The chain is strong enough to handle even harder tasks like residential climbing and arbor maintenance tasks.
As we were talking about the design, there are many aspects of the design to admire about. Take the lightweight and compactness of it as examples. When you have a corded chainsaw weighing just around 16.4 lbs, that's hardly believable at first place. But Remington had done some serious wonder here.
As a benefit, you will get fatigue and vibration-free operation with less trouble in carrying around. Also, Remington RM4618 is best lightweight chainsaw, will be perfect if you want to use it with a pole. Although the brand has another set of excellent pole saws as well.
Once you get to take this chainsaw out of the box, you are ready to go. Don't need to do any fancy assembly in order to get it on work.
The fact that we want to finish with is its noise-free operation. We've tested it several times through many of the user's review. And we're now certain about the fact that Remington RM4618 is one of the most professional chainsaws in the market. The reliable chainsaw will keep you cheerful while working, and won't bother the people nearby as well.
Comparing to everything you're getting in this one package, the price seems to be seriously low. We literally don't know how Remington had managed to make that happen!
We all know that there are three types of chainsaw in the market- gas powered, AC electricity powered and DC battery powered. Now, when we are taking professional woodworkings into consideration, we are talking about a whole lot of working load. And the gas-powered motor is the king of high workload.
Therefore, representing another fantastic gas powered chainsaw- XtremepowerUS 22″ 2.4HP 45cc Gasoline Gas Chainsaw. Let's get and check out its features-
The power of a 2.4HP motor is certainly a dream power for a chainsaw user. Even with the stubborn tree branches made of hardwood will be easily dealt with.
Talking about power, the obvious part of it is motor. The motor is EcoBoost Engine, which is high in power and low in fuel consumption as well. So, you are able to deal with the high workload at less cost.
Kickback is often an issue that woodworkers and carpenters have to go through. But this one seems to be pretty viable in that sense. There is an anti-kickback feature, and the chain won't kickback due to this result. So professionals easily can focus on the work only, apart from the maintenance.
Less production of CO2 is another plus point. Because it takes a less amount of fuel for the same output of typical chainsaw. So, the environmental issue will be also taken care of.
If you see your gas chainsaw to be affected in its performance, one of the reasons may be the intake of dust and debris. But the XtremepowerUS 22″ 2.4HP 45cc Gasoline Gas Chainsaw has a clean air intake system designed into it. So, dust will be prevented from entering into the internal mechanism. So, the durability of the chainsaw will be definitely enhanced.
If you want to avail a pocket-friendly model of gas-powered chain saw for your professional works, XtremepowerUS 22″ 2.4HP 45cc Gasoline Gas Chainsaw can be a good option.
If you are a professional worker, and having a hard time to meet both ends with budget and performance with your chainsaw, Worx 16-Inch 14.5 Amp Electric Chainsaw is there for you.
No, seriously. We literally left astonished while came across the details of its features and the price point. It's seriously surprising that how Worx manages to provide such a wonderful professional chainsaw with such a low price point. Yes, Worx is best chainsaw for the money.
Well, we will take you through the details so that you can have your own opinion as well.
First thing first, it is powered by a 14.5 amp motor, which is perfect for both low end and high-end shaping works. We often cherish a gas powered chain saw for having a high cutting power. But trust us, this one is no less at all.
To let you operate with this product without any worries, there are a number of safety features included in it. We would like to mention the chain brake, the ergonomic handle, the insulated body covering and so on.
Overtightening is a nightmare for any professional carpenter who does woodworking on a regular basis. In the middle of work, a loosen up chain takes 20-30 minutes from your valuable working hours.
To get you out of there, there is an auto chain tension adjustment. Talking about automatic processes, there is another auto lubricator to keep your chain running smooth. To understand the correct oil level in any situation, there is a transparent oil indicator container.
A good thing about this pruning machine is, it takes a whole less maintenance than what you have to do in case of usual electric chainsaws. All you have to go through is cleaning the bar and chain system up. You need to hardly go through any maintenance of the insider parts and parcels.
We have seen many woodworkers, carpenters and gardeners to complain about their chainsaws that- they are too heavy to handle. Well, we can not say that this machine we're talking about is pretty much light. But compared to those 15 lbs+ weighing battery-powered saws, this one comes pretty lighter. The overall weight of the machine is around 11 lbs.
From all the viewpoints of price, size, maintenance, performance, and safety, we're highly pleased with this model from Worx. What's your thought on that?
No matter it's pruning, shaping or woodworking, carpenters never compromise with the quality of chainsaw they use. But amidst the process of selecting a perfect saw, many of them end up with a few hundred bucks wasted.
To end up that struggle once and for all, Tanaka TCS33EDTP/14 Top Handle Chain Saw is here for the rescue. It's our best all-around professional chainsaw from all aspects.
It's a gas-powered chainsaw with a 32.2cc, 2 stroke engine. The engine is definitely one of the most powerful ones, as long as consumer grade chainsaws are concerned.
The fuel consumption technology of the model is definitely praiseworthy. It produces an ultra-low emission of CO2 or other gases, as the fuel consumption of this machine is limited within a minimal amount.
While cutting with this chainsaw, there is a sprocket nose bar along with the Oregon chain. This addition provides you a smooth cut when you're working. Also, it's pretty much simple to operate.
There is a gear driven chain oiler which works automatically. Also, there is a side access chain tensioning facility, to make sure that you can quickly adjust the chain tension.
Among other features, there is a half throttle choke with a purge primer bulb. These are the parts which are responsible for quick startup and warm up when you press the start button.
The system is designed to produce less vibration and noise. So it will not be a source of disturbance for you and people around when working with it.
If you have to clean parts like the spark plug or rear filter, both of them are pretty much easy to access. All you have to do is to open up the lid. Having said that, we've got proof that this one requires pretty much less maintenance. So, you have to do such cleaning very occasionally.
The power to weight ratio of the product is something that many of the woodworkers liked, and some did not. Well, we think that having a weight of 12.4 lbs is pretty smart and convenient when you have to roam around with this chainsaw in hands.
When we talk about professional woodworking, the level of expectation from the pruning tool becomes higher than usual. But as long as you can cut up to 90 tree branches with a cordless chainsaw at a stretch, it's more than satisfactory.
We were talking about the evergreen Greenworks 20312 Cordless Chainsaw, which had been one of the best chainsaw for many years now.
Behind the enormous popularity of the 20312, there are a number of reasons. First thing first, it's a combination of more runtime and more power. We've just mentioned about the runtime, which is up to 90 cuts with a fully charged battery. Now come to the point of, how much torque it can provide while cutting.
Well, Greenworks 20312 Cordless Chainsaw is powered by a 40V Li-ion battery, which is best suited when picked up from the same brand. And in the motor section, we have a high-quality brushless motor.
A combination of such battery power and motor truly delivers 30% motor power comparing to many other wireless poling saws. Result? More efficiency in your professional work.
There are other benefits of the brushless motor as well. As an example, the vibration level deduces by 30%. So you'll be able to be more accurate and more comfortable while working with this chainsaw.
Apart from the power, Greenworks had also been super conscious about the user's safety as well. You can see a chain brake and a kickback chain to be on their duties. The role of these two part is to provide safety in case of any kickback or jamming. We've seen many accidental issues to take place in this way. Hopefully, with this tool, they won't repeat themselves.
To make sure that you are not stuck from any chain jamming while working, there is an auto oiling system. Along with other safety features in this model, this one seems to be one of the safest cordless chainsaws to work with.
Let's talk about cutting capacity now.
Well, this model has got a surprising cutting bar length of 16 inches, which is more than another cordless model from the same inventory. With it, you can cut up to 10-12 inches of branches. If the tree branches are even shorter in thickness, you can cut up to 150 of them at one stretch.
The weight of this product had been one thing that users are complaining about a lot. Because of its bulky motor mechanism and battery, it weighs around 10 pounds, which is quite heavy. Hopefully, Greenworks will work out on this fact later on.
The next professional cordless chain saw that we would like to call on the podium, is named as BLACK+DECKER LCS1240 40-volt Cordless Chainsaw. As the name suggests, it's a full form chainsaw that runs on battery power. We will show you more of its specs, performances, maintenance and every other major pros and cons below.
First thing first, let me unveil a secret first. Although it runs on battery power of 40V. But the actual working voltage is not 40 at all. And this is the point most of the first time users miss out. In the case of this model, the actual voltage is 36 volts, and it seems fine for all kind of semi-professional or professional pruning/woodworking works.
Moving forward, this voltage rating of 36-40V lets it work with any other tools within the same voltage requirement. We're talking about many accessories and toolkits that we often equip on chainsaws.
The length of the chainsaw bar is 12 inches. That shows that you can deal with tree branches up to a thickness of 10 inches at max. As long as you're not dealing with that much thick of limbs, that seems fine.
One of the best parts of this product is the manual chain adjustment option. You might wonder a bit now. Because every smart model from famous brands is coming with automatic chain adjustment. So, why do we appreciate the manual implementation of it?
Well, you always can't let the machine decide which level of chain tightness you want to work with. Specially, when you're dealing it professionally, you would like it to be manual.
On top of that, this adjustment kit is not an extra tool. It's a super convenient circular adjustment roller. All you have to do is to roll it at the correct point to determine the chain tightness you want to work with.
We're up to the #9th ranked product of our list of the  professional chainsaw review. At this point, we want to break the lines of a gas-powered chainsaw and would like to bring on another cordless chainsaw on the podium.
Welcome, the Makita XCU03PT1 Brushless Cordless Chain Saw Kit on the stage.
The name of the product quite expresses some important aspects of the product. It's basically a cordless chainsaw. So, you need to have battery power to keep it up. And talking about the batteries, it is compatible with LXT Lithium-ion batteries of 18V.
Now, let's get a little more technical and talk about the technical aspects of the product.
The motor that is used to operate this machine is a brushless type. As you know, there are a number of benefits of using a brushless motor. It's high in efficiency, creates no brushless and consumes less energy provide more output.
If you talk about the power efficiency of this product, it's one of the strongest zones of it. If you compare it with the power output of a gas chainsaw, the equivalent gas chainsaw will be 32cc of power.
You can change the speed of the chain within a good range. The variable speed trigger allows you to switch between 0, 1, 3 positions of it. The highest speed that you can reach in this way is 940 fpm. Pretty impressive for a battery powered chainsaw, right?
We've seen a previous product of the list to have manual, tool-less chain adjustment. If you look at it in a different way, you can see how this feature can help you in setting up your own chainsaw requirement.
Apart from these significant features, it has also got a built-in lock-off lever to protect you from accidental incidents. Also, there is a built-in LED switch which will let it turn off while not used for a while. This extends battery life as well.
We have eventually reached the last product of our list, and we want to finish the discussion up with a product from Sun Joe- one of the top chainsaw brands. It's called the Sun Joe SWJ599E Electric Handheld Chainsaw.
This electric chainsaw has got a 9-amp powerful motor to work with. The chain and bar length is 14 inches. So, the combination of the motor and chain seems to perfect to deal with heavy to heavier pruning, and cutting works.
We have seen many first time workers have trouble with the bulky and complicated chainsaw operating. But with Sun Joe SWJ599E Electric Handheld Chainsaw, that won't be the case anymore. It has got a one-press button to start the chainsaw. All you have to do is to hold it correctly and work.
The maintenance of this chainsaw seems to be pretty much minimal. All you need to clean the oil filter on a regular basis. No tune-ups or adjustment is required.
The oil tank capacity is 4 fl oz, which is good. Because most of the other chainsaw models come with a 3 fl oz oil tank capacity. But Sun Joe seems to make a smart move here.
The size and weight of this chainsaw are pretty much favorable. It weighs only 7.7 pounds. Some users have complains about it, because there are electric chainsaws which come with even less weight. But we don't think you will mind dealing with it as long as the performance is good.
Buyer's Guide of Best Professional Chainsaw in 2021
So, we are done with checking out the complete list of the best chainsaw on the market and their specs. We are certain that you might have prepared your own shortlist of products. But let's take an extra step and go through an extensive buying guide-
What Type of Chainsaw Do You want?
First thing first, there are three major classifications in chainsaws. And you have to pick up one before deciding any other factor. Three types of chainsaws are- Gas powered chainsaw, Electricity powered chainsaw and Battery powered portable chain saw.
We have selected products from each of these three, and hopefully, it will help you to understand the specs.
The Cutting Capacity:
Next to the type, it's also important how good the chainsaw can cut. If you are looking for a professional chainsaw for Cutting Firewood or just mediocre pruning and shaping, you should go for a 6-7 amp motor in case of electric chainsaws, and 28-30cc power in case of a gas chainsaw.

The requirement of power increases over time, as long as you keep increasing the amount of workload. There are many models available with higher capacity, and higher price tag as well.
Chainsaw maintenance course
Maintaining a chainsaw takes many things into consideration.

First of all, there are delicate parts like the air filter, the spark plug which is must to be taken care of at regular frequency. Otherwise, the chain and the whole mechanism can get stuck.

Now, there are many models which come with automatic oiler and automatic chain tension adjustment. Certainly, these features deduce the effort of maintenance.
The Fuel Efficiency
As you are looking for a chainsaw for professional works, you definitely care about the cost of fuel you have to bear for the chainsaw.

But there are many models who come to be super cost-effective as long as fuel consumption is concerned. We would recommend you to look for those models.

Also, look for auto power off feature which will help you to save electric power.
Before Buying A Best Chainsaw People Frequently Asked :
Question: Which kind of most powerful chain saw?
Answer: Want to pick a heavy duty powerful chainsaw?? Then I recommend to go for gas powered chainsaw. The gas-powered chainsaws are able to intake the heaviest workload.
Question: Which one to choose from automatic chain adjustment or tool-free chain adjustment?
Answer: If you're an expert with a sense of required chain tension at every operation, go for the tool-free one. Otherwise, stick with the automatic chain tension adjustment.
Question: Can I use accessories with these chainsaws?
Answer: It completely depends on the brand and the model themselves. Many electric and battery powered chainsaw allows you to do so. But from the same brand.
Question: How much maintenance do I need?
Answer: As we've told before, if you prefer choosing automatic chainsaw adjustment, automatic lubricant etc, it will take minimum maintenance to work with a chainsaw.
Bottom Line:
So, that was the list of the top-notch professional chainsaw, guys. Hopefully, you've enjoyed the discussion and found what you are looking for. Our last advice would be to keep an eye on the price-quality ratio and brand warranties. Because those factors matter a lot when it's about professional woodworking or carpentry.